The appointment of Vailankanni Wenceslaus Melchoir Anthony (Wenceslaus Anthony) as a Member of the New Zealand Order of Merit (MNZM) in the Queen's New Year Honours List, has been widely regarded as an honour that was timely and well-deserved.
Government officials and members of the India New Zealand Business Council (INZBC) would recall with appreciation his services not only to the Organisation but also to New Zealand-India relations, during his tenure as Chairman from September 2009 to June 2013.
However, his efforts to promote both countries as ideal destinations for business date back almost 15 years when he migrated to New Zealand.
Business interests
As a businessperson, his interests extend from property ownership and management to international trade and education.
Mr Anthony is Managing Director of WAML Group Limited, Director Business Solutions Limited (New Zealand) and PACT Industries Pty Ltd (Australia). His business acumen and ability to negotiate deals that assure mutual rewards has led to development of markets in many parts of the world, notably India, Sri Lanka, Australia, Bangladesh, Australia and New Zealand.
Prior to his arrival in New Zealand in 1999, he held senior positions in India at Godrej and Boyce and Hindustan Computers Ltd. He was also Deputy Director and Secretary of the Board of Studies of Loyola Institute of Business Administration, Loyola College, Chennai.
Visiting businesses and investors seeking opportunity in New Zealand are often asked to meet him to gain useful and right contacts. He facilitated the visits of the Sports Export Promotion Council, Leather Export Promotion Council and the Spices Board of India to New Zealand and arranged Buyer-Seller Meetings to promote trade and person-to-person contacts
Retaining relevance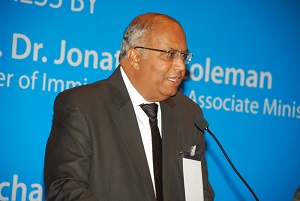 He was the first person of Indian origin to head INZBC in its then 21-year-old history. He brought dignity and honour to the Council and established it as a credible, meaningful and useful entity.
In a report published in our September 15, 2009 issue following his election, we had quoted him as saying that he was keen to develop the Organisation as a good entity.
"I would like our Council to focus on its core competencies, which are access to individual intellectual wealth which everyone brings with them, lobbying and providing for business in both countries," he said.
Four years on, those objectives appear to have been accomplished, although the continued relevance of the organisation would depend on the current and future leadership. INZBC registered impressive progress during his tenure, manifest at the outset in the establishment of chapters in Christchurch and Auckland and doubling its membership.
Consolidating ties
Thereafter, the Council began to gain the attention of the New Zealand Government and a number of professional organisations in India, notable among which were the Federation of Indian Chambers of Commerce of India (FICCI), Confederation of Indian Industry (CII), Associated Chambers of Commerce of India (ASSOCHAM) and the Punjab, Haryana & Delhi Chamber of Commerce & Industry (PHD).
As we had mentioned in our earlier reports, Mr Anthony was an active participant in the meetings and discussions with these organisations and those held with ministers and senior officials of the New Zealand and Indian Governments.
The Government accorded a special status to him during the state visit of Prime Minister John Key to India in June 2011. He utilised the opportunity to promote INZBC and explored the possibilities of seeking new avenues for involvement of Indian and New Zealand businesses.
Banker's hat
Mr Anthony's appointment as a Director on the board of the Bank of Baroda (New Zealand) Limited in June 2012 was yet another testimony to his competence and insight into the commercial world.
"My late father was a banker and he was keen that I should be involved with the banking industry, since he believed that every bank should function as the financial heart of the community, helping to make every individual progressive and prosperous. I believe that his wishes have come true," he told us as we broke the news of his appointment in our June 15, 2012 issue.
Education Scholarship
Education has a special interest in his portfolio of activities and for the past several years, he has been the Chairperson of the Business Advisory Group of the International College of Auckland (ICA).
In that capacity, he has had occasions to perceive the strength of youth power and the need to encourage them to achieve well in their scholastic career as the foundation for greater achievements later in life.
Inspired by his passion for education and his cause for assisting the needy, ICA launched the 'Wenceslaus Anthony Scholarship,' to enable one deserving international student from India to pursue one of its courses at its Central Auckland Campus.
Launched by the Prince of Arcot Nawab Mohammed Abdulla Ali, the Scholarship, valued at $24,000 will meet the cost of a two-year course.
Prince Nawab said that the Scholarship will help students from India who are keen to study in New Zealand but cannot afford its high costs.
"Education is one of the pillars of the society and its significance in promoting progress and prosperity of a country cannot be over-emphasised. Good education initiates cultural and social harmony, which is the most important attribute to peaceful co-existence, mutual respect and tolerance," he said at the launch ceremony.
Other interests
Mr Anthony is a member of the Roman Catholic Church and considers himself as a 'Servant of Servants,' in the true Christian spirit.
He is the Chairperson of the Divine Retreat Centre Movement in New Zealand and Advisor to the Vailankanni Committee to celebrate the feast of the Birthday of Mother Mary (on September 8) and Director of Conquest Club, which aims to shape the character and personality of young boys in the 8-14 age group.
He has worked very closely with the late Mother Teresa and has had a personal audience with His Holiness the late Pope John Paul II. He is the Chairman of the Mother Teresa Interfaith Committee established in Auckland in 2010.