Indian Cinema is celebrating its centenary this year and the Kapoor family is justly proud being on the scene with an impressive innings of 80 years.
From the late Prithviraj Kapoor in the 1930s to his great grandson, the present day heartthrob Ranbir, the members of the Kapoor family are arguably Hindi cinema's first family.
Prithviraj and his sons discouraged their wives from acting after their marriage but except Raj Kapoor's wife Krishna Malhotra, who never faced the camera for acting), the wives of Shammi (Geeta Bali) and Sashi (Jennifer Kendall) were actors.
Randhi Kapoor and his younger brother Rishi (sons of Raj) married respectively Babita Shivdasani and Neetu Singh, both popular actors of their times. Randhir's two daughters (Karisma and Kareena) also become popular stars, the latter still in demand.
Megastar rising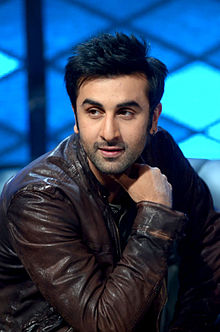 Ranbir Kapoor, the only son of Rishi and Neetu (they have a daughter – Riddhima is married to businessman Bharat Sahani), is on his way to becoming one of the biggest stars of the Hindi film industry.
After studying acting at at The Lee Strasberg Theatre and Film Institute in New York, Ranbir returned to Mumbai to assist director Sanjay Bhansali to produce 'Black.'
Soon Bhansali had the young man in front of the camera, debuting with his musical film 'Saawariya' in 2007. Though the much hyped and ambitious film failed at the box office, it introduced audiences to a fantastic actor.
He won the Filmfare Best Debut Award for his performance in the film.
His first success came the following year with the romantic 'Bachna Ae Haseeno,' in which he was cast opposite three leading women, including his then girlfriend Deepika Padukone. Hindi film enthusiasts instantly began their love affair with him.
Versatile actor
The young Kapoor then did roles that showcased his skills as playing the common man, comic hero and adolescent in films like 'Rocket Singh: Salesman of the Year,' 'Ajab Prem Ki Ghazab Kahani' and 'Wake Up Sid.'
The following years brought more success for Ranbir, enabling him to show that he can hold his own in a multi-starrer film like 'Rajneeti,' pull off playing a self-destructive musician in 'Rockstar,' and make a seemingly offbeat love story between physically challenged people in 'Barfee.'
The writing is now on the wall. Ranbir wants to do Hindi cinema on his own terms.
Testing waters
He is chartering new territories and trying to change the definition of mainstream cinema. His success is also a testament to how Hindi cinema is evolving.
With corporate houses now backing most Hindi films, and the boom of multiplexes resulting in screens being available to release all kinds of films, doors have opened for script-driven films to make a mark in Hindi cinema.
Youth of today, constituting the biggest segment of movie-going audiences, are ready to embrace all kinds of cinema, provided it entertains them.
Clean character
Ranbir's conduct in his professional and personal life has been blemish free, making him a role model for the youth and strengthening his brand value.
The handsome actor is the face of many advertising campaigns.
With an exciting array of films lined up and his fan base growing manifold, especially after his latest film, 'Yeh Jawani Hain Deewani,' declared a blockbuster just two weeks after its release.
The future is indeed bright for the grandson of the legendary showman Raj Kapoor.