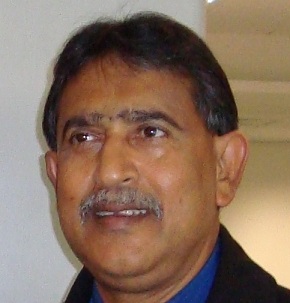 The fight for democracy in Fiji has reached new heights of political expediency, with hitherto political foes seen drinking from the same pail.
In addition, we also witness the genesis of the adage, "The enemy of my enemy is my friend," or in modern terms, "a foe's opponent is a political friend."
What remains uncertain is the model of democracy that can be expected from those whose definition of the concept rests in self-interest or their ability to clamber back onto the gravy train from which they were jettisoned by the military takeover.
The media coup by the military fugitive, Ratu Tevita Mara has taken the fight for democracy to a higher level. Café Pacific columnist David Robie recently sought some answers: Who are the media minders behind Mara massaging his military message and what is their agenda? Why are things being taken at face value? Where is the evidence backing up Ratu Tevita's sweeping allegations?
What has also come under scrutiny is not only the credibility of certain media, but also that of Ratu Tevita and the stance taken by the Australian and New Zealand Governments.
These two Governments have bent their rules on military sanctions by granting special exemption to the former military henchman who had suddenly seen the light. In my earlier article 'A runaway Colonel in Amnesia' (Indian Newslink, June 15, 2011), I had questioned the credibility and authenticity of the aristocratic Ratu Tevita, who has been dangled as a devotee of democracy.
In presenting a 'smoking gun picture' from the Canberra meeting of the Pro- Democracy and 'Anti-Bainimarama Brigade', Fiji-born journalist Graham Davis questioned the motive of those behind the meeting and the 'Ten-Point Plan' put forward to take Fiji back to democracy.
He questioned the propriety of including Simione Kaitani, an ethno-nationalist and a former minister in the Laisenia Qarase Government as a Pro-Democracy campaigner.
TV Close Up
As Ratu Tevita arrived in New Zealand, I recalled his February 2003 'Dragon-slaying' Close Up programme on Fiji TV, which showed Kaitani's confession to sedition prior to the march that resulted in George Speight staging the coup on May 19, 2000.
http://www.pmc.aut.ac.nz/articles/video-flashback-revealing-kaitani-interview-fiji-tvs-close
Davis, in his earlier article, had shown a photograph of Australian National University academic Dr Brij Lal with Kaitani. I forwarded a clip of the Close Up programme to Dr Lal, who clarified his position through an email.
He unequivocally denied any previous association with Ratu Tevita, Kaitani or any organisation. His views on Fiji are longstanding and well known.
Dr Lal dismissed attempts to link him with the perpetrators of the 2000 coup as "mischievous."
"What I said in the meeting was what I have always said: that coups are bad, that the path of resistance should be peaceful, that there should be a genuine rather than a politically expedient conversion to the values of democracy. When the meeting concluded, as Padma [Mrs Lal] and I were about to head off to Sydney, Kaitani got himself snapped with me; and on the basis of that single photograph, people assumed that I was supporting Mara and Kaitani and the crowd. Nothing could be further from the truth," Dr Lal said.
Indigenous Extremist
Davis had reserved most of his criticism for Kaitani, named by a soldier during the Speight coup as "one of the indigenous extremists who had encouraged Speight to carry out his coup and was with him in the parliamentary complex."
It is obvious that Ratu Tevita was enlisting the support of questionable nationalist elements like Speight's treasonous Minister Kaitani, who was Assistant Minister of Information in the Qarase Cabinet.
Despite his admission of sedition (Close Up), Qarase rewarded Kaitani with a full ministerial cabinet position.
While all this was taking place, the Fiji media, including Fiji TV and the normally vocal Rupert Murdoch's Fiji Times remained mute on this gross violation of good governance.
Fiji media's dereliction of duties during the Qarase regime is another story to be pursued some other time.
Those interested in Fiji's future and its model of democracy are bound to be confused, if not worried. The question is, "What sort of democracy does the international community seek for Fiji? Kaitani, while admitting his crime, is non-repentant about being a nationalist and still wants leadership in indigenous hands, saying, "Fiji for Fijians."
Pro-Democracy Group
What is also questionable is the credibility of Rajesh Singh who supposedly leads the makeshift breakaway Pro-Democracy Group hosting Ratu Tevita in Auckland.
The breakaway group was formed since the legitimate and long-standing Coalition for Democracy in Fiji (CDF) led by Nik Naidu is against the military-man's visit to New Zealand because of his alleged act of torture in Fiji.
On the eve of arrival of Ratu Tevita, CDF has filed a criminal complaint with the New Zealand Police against him for his alleged role in the torture of hundreds of Fiji citizens. It reiterated that New Zealand had ratified the UN convention against torture, which provides for arrest, investigation and prosecution of crimes committed outside New Zealand by non-citizens.
Rajesh Singh is a former organiser for Naitasiri Rugby and reportedly considers the Qaranivalu of Naitasiri, Ratu Inoke Takiveikata as his mentor and friend.
Ratu Inoke was convicted and implicated for his role in the Fiji military mutiny of November 2, 2000. Singh was an Assistant Minister in the Qarase Government and was reportedly sacked for insubordination.
He also reportedly used to visit Ratu Inoke in prison. His political stability and loyalty for democracy is questionable because he was working for the Bainimarama Government at the Fiji Sports Council until recently when he failed to get reappointed.
Like Ratu Tevita, he also is a turncoat, one of the inside persons, who had suddenly seen the light once things did not work their ways.
Democratic model
Is this the model or brand of democracy, led by such motley crowd that New Zealand Prime Minister John Key, Foreign Minister Murry McCully and Australian Foreign Minister Kevin Rudd seek for Fiji?
Do they wish to push Fiji back to the dark days of the Taukei Movement and ethno-nationalism, where the rule of jungle, chiefly aristocracy and Methodist Church's bigotry masqueraded as democracy, where Indo Fijians were relegated as second and third class stateless citizens?
Although the clips of the Close Up programme and background information have been provided to both major TV stations, one cannot expect much from New Zealand media's questionable and jaundiced reporting on Fiji.
The mainstream media equates democracy to mere elections, irrespective of what takes place after such supposedly democratic elections that Fiji has experienced over the years.
Against such background, you need to take with a pinch of salt what you watch or read about Ratu Tevita's visit to New Zealand in the mainstream media.
This is because of their agenda on Fiji and singing from the same hymn-sheet as the New Zealand's foreign policy, in which, like in George Orwell's Animal Farm, some [military personnel] are more equal than the others.
Thakur Ranjit Singh is a political commentator and a former publisher of Fiji's Daily Post newspaper. Email: thakurji@xtra.co.nz