Auckland based Magsons Hardware Limited created a unique record in the history of business awards by featuring as finalists in five categories and winning three of them at the Indian Newslink Indian Business Awards 2013.
The Company won the 'Business Excellence in Retail Trade' and 'Best Large Business' Awards, while its Finance Director won the 'Best Accountant of the Year' Award at the Presentation Ceremony held at Sky City Convention Centre on Monday, November 18, 2013.
Nawab Mohammed Abdulla Ali, Prince of Arcot (Chennai), his wife Sayeeda Begum, Economic Development Minister Steven Joyce, Opposition Leader David Cunliffe, Deputy Indian High Commissioner Sanjay Verma, Auckland Mayor Len Brown, BNZ Chairman John Waller and BNZ Partners Director Antony Healy were among the Guests of Honour at the Ceremony, which was attended by more than 850 businesspersons representing a broad spectrum of the economy.
Impressive performance
Magsons Hardware Limited and Mrs Patel were finalists respectively in 'Business Excellence in Customer Service' and 'Best Businesswoman of the Year' categories.
The Magsons Group owns Mitre 10 Mega in Henderson and Botany and Mitre 10 at Westgate.
In their notation, the judges (who constitute an independent panel for evaluation of entries and visits to a select number of participating companies) said that the Company is an outstanding example of understanding its business requirements and what it takes to continue to grow revenues and profits.
"It selects products based on global market trends, competitor monitoring and customer intelligence. Magsons Hardware Limited has a large core of loyal and skilled people, who are recognised as the key to the company's customer service core values," they said.
Team work
Team work and a sense of belonging are among the special attributes of Magsons Hardware Limited, which has been a consistent winner in our Awards programme since its establishment in 2008.
We have seen a new team getting involved in the entry process every year, attending our free workshops and consulting with our coaches and mentors over the categories to enter and the chance of success.
Chairman & Managing Director Vinod Kumar said that the Awards belonged to all the employees of Magsons Hardware Limited and that he was proud to be one of them.
The company's table at the Awards Night Presentation Ceremony invariably comprises the team involved in the entry process. It is routine for Mr Kumar to collect the Award and present it to the team, saying, "You have won this. Congratulations!"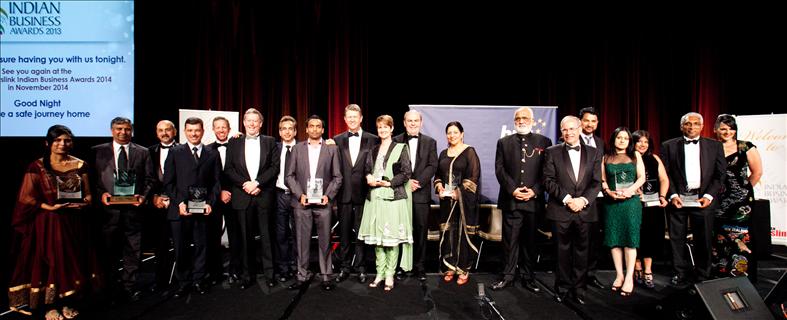 New entrants
The highlight of this year's Awards was that a large number of companies filed their entries for the first time and many of them were based outside Auckland. At Home Wellington, which was acquired by experienced hotelier Suresh Subramaniam and his wife Katrina earlier this year, won the 'Business Excellence in Marketing' Award, apart from reaching the finals in 'Business Excellence in Retail Trade' and 'Best Small Business' categories.
Link 2 Services Limited was featured as a finalist in the 'Best Large Business' category, while its General Manager Rahul Sirigiri won the 'Best Young Entrepreneur of the Year' Award.
Shivani Arora, Director of India Gate Restaurant and other restaurants has become a source of inspiration with her 'can-do' attitude. She won the 'Best Businesswoman of the Year' Award, one of the most widely contested categories.