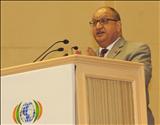 Governor General Sir Anand Satyanand has extolled the role played by the Indian Diaspora saying that Indians can promote higher levels of bilateral relationship between New Zealand and India.
Speaking at the Ninth Inaugural session of the Pravasi Bharatiya Divas at the Vigyan Bhavan in Delhi on January 8, he cited the ongoing negotiations for a Free Trade Agreement between India and New Zealand as an example.
"While I am not party to these discussions, I believe the Diaspora could be crucial to the success of such a free trade agreement. Members of the Diaspora will clearly be key players in business and trade relationships and the New Zealand Government is actively seeking their input on expanding its dealings with India.
"It seems to me essential that we support organisations such as the India-New Zealand Business Council and the Asia New Zealand Foundation to harness and focus the Diaspora's energy," he said.
Sir Anand cited the Indian Newslink Indian Business Awards as another example of the critical role played by the Diaspora in the business sector.
He was a Guest of Honour along with Prime Minister John Key, Opposition Leader Phil Goff, Auckland Mayor Len Brown and Indian High Commissioner Retired Admiral Sureesh Mehta at the Third Annual Indian Newslink Indian Business Awards Presentation and Gala Dinner held on November 15, 2010 at Stamford Plaza Auckland.
Sir Anand said globalisation should not be perceived in the narrow concept of easy access to foreign products, international investment and the flow of goods and services.
Such a narrow, one-sided perspective, that sees global connections in just monetary and economic terms, is almost certainly bound to fail, he said.
"For globalisation to succeed, and to benefit all, we must recognise that it is more than trade and investment; it includes people, knowledge, technology and communication," he said.
He said the concept of the "Global Indian" represented the very best that globalisation has to offer the world.
"But is should never be seen as a one-way street but must respect the Diaspora's many layers, textures and colours," he said.
Outstanding Indians
India's President Pratibha Patil agreed, saying that overseas Indians had shown outstanding capabilities in professional, academic, social, cultural and political fields in their respective countries.
"They are known for determination in the face of adversity, fortitude in difficult circumstances and the spirit of never giving up. They have thus endeared themselves to their fellow citizens in their adopted home countries," she said, speaking at the concluding session on January 9.
That statement matched the determination, enterprise and hard work invested by most people of Indian origin in their adopted countries.
Sir Anand said he was privileged to be at the PBD as a New Zealander whose four grandparents migrated from India to make a new life thousands of kilometres away in the South Pacific.
"Those people and their descendants have never forgotten their origins and to this day remain proud of the culture and heritage of India. The epic journeys that saw my own family settle in New Zealand began almost 130 years ago when my maternal grandparents left Uttar Pradesh to be among some of the first indentured workers in Fiji. My paternal grandparents, from Andhra Pradesh, followed in 1911. It was in Fiji that my mother and father were born," he said.
People of Indian origin have settled in many parts of the world and having done so, many have made a significant contribution to their new settings, he said.
Sir Anand was the Chief Guest at PBD 2011 along with his wife Lady Susan. He had attended the first PBD held in 2003 in Delhi.
"Since then, the event has come a long way to be recognised as the most significant and most vibrant annual gathering of the Indian Diaspora," he said.