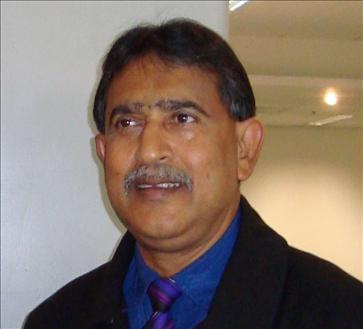 Anirudh Diwakar, Programmes Director of Radio Sargam (the Hindi Station of Communications Fiji Ltd) passed away at a Suva Private Hospital on August 25.
He was cremated in Fiji on August 31, after a farewell by mourners at a packed National Stadium.
Radio Tarana Managing Director Robert Khan flew to Fiji to attend the funeral.
A similar gathering was held at the same time in Auckland.
The spirit of unity, which Anirudh always propagated, came to fruit when people from three Hindi radio stations in Auckland got together to celebrate his life.
Radio Tarana, Humm FM and Apna 990 organised a condolence gathering at Sri Prakash Ramayan Mandali Hall in Mount Roskill.
Retired Fiji Broadcasting Commission Deputy General Manager Pundit Devakar Prasad identified the talent in Anirudh when he interviewed him four decades ago. However, because of his heavy voice, Anirudh was assigned to the station's advertising department.
New style emerges
Even with this setback, he was relentless in being an announcer. Through his dedication and ability to modulate his voice he was able to start a new trend of 'pleasant, heavy and golden voice' that others started emulating.
"He was an exemplary worker and has left an everlasting voice. While the lamp has been extinguished, its light, in the form of his golden voice will live on. May his soul rest in peace," Mr Devakar said.
Anirudh' s cousin, Pundit Ami Chand spoke highly of his deceased brother, who had intense love for music and was jovial with friends.
His former colleague and Humm FM Station Manager Rajesh Maharaj attributed his own success in radio to Anirudh, who he said, inspired him.
Former colleague Satendra Sharma of Radio Tarana recalled his association with "a charming radio announcer who taught him a great deal."
Pawan Rekha Prasad, another former Fiji colleague now at Radio Tarana said Anirudh respected and rewarded talents and that his departure left a big gap in Hindi radio broadcasting.
Shashi Kanta a presenter at Humm FM, attributed her career to Anirudh, who inspired and encouraged her to be an announcer.
"He possessed supernatural ability to work and draw the attention through generations of announcers and audience," she said.
Among the other speakers were Shalen Shandil and former Fiji Parliamentarians Master Shiu Charan and Harnam Singh Golian.
Musician Durga Reddy spoke of the younger days of Anirudh.
Messages of condolence from Prabha Mishra, Hemant Vimal Sharma, and Tej Ram Prem were read at the meeting.
Communications Fiji Limited Managing Director William Parkinson said, "Hindi Radio at the time was restricted by a style that tended to copy All India Radio and demanded that announcers use very formal Hindustani using words and grammar that many Fiji listeners struggled to understand. Anirudh realised that here was an opportunity to break free and build a radio station that spoke to the Fiji Indian community in a language they understood while entertaining and informing them."
Indo-Fijians in Australia, Canada, New Zealand and the US emulated Anirudh's initiative and trend-setting radio style in their radio stations.
An Aucklander, who is an ardent fan of Anirudh, summed up the veteran broadcaster's life, drawing an analogy with former US President Bill Clinton.
"Despite his shortcomings and moments of indiscretion, Clinton remains perhaps the most popular, likeable and successful President that the US has seen. In a similar fashion, despite any moments of indiscretions, Anirudh Diwakar remains the most popular, likeable, influential and memorable radio personality that Fiji has seen."
I concur with this thought. Rest in peace, my friend, you will always be remembered for the good human being you had in you. May God grant strength to your family to go through this difficult time. God bless your soul.
Email: thakurji@xtra.co.nz