Just days before its commercial release India's superb actor Aamir Khan was anxious and nervous about Dhobi Ghat (Mumbai Diaries), the latest offering from his stable.
Those were the feelings of a sensitive and professional actor that Bollywood has rarely seen. While every film (well, almost) that he has made, either under his own banner (Aamir Khan Productions) or for someone else, the thespian has shown equal concern, commitment, dedication and devotion.
That sets him apart from the crowd.
"Dhobi Ghat is a film with a difference; it is realistic and larger-than-life. I hope it appeals to a majority of filmgoers, if not all. I was attracted by the story, theme, everything in fact that would make a film good," Aamir said, speaking to Indian Newslink from his Mumbai home on Sunday (January 16).
It is not that Dhobi Ghat was written by his wife Kiran Rao or that she had decided to debut as a director that made Aamir to become the Co-Producer or even take the lead character of Arun, a sequestered painter, with a devil-may-care attitude.
It was his desire to offer something different to the audience worldwide that he decided to go with Kiran's ambition and fortitude.
"She was a delightful producer and director. Kiran has clarity, sensitivity and an ability to bring the best out in her team, which makes her a leader I am happy to follow," Aamir said.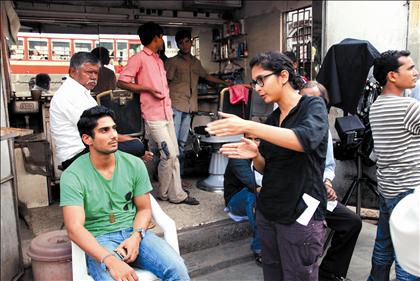 Kiran's choice of other characters was also impeccable. Aamir ended up with an all-new cast and crew but that was not the reason for his nervousness.
"Dhobi Ghat is an Art-house film. While Kiran has worked hard to bring out the best in every one of us in the cast, the rest of the crew were also incredibly great and committed to making it a success," Aamir said.
We are told that Dhobi Ghat (Mumbai Diaries) is a story of four people from very different backgrounds, whose worlds intersect and leave them forever altered.
Among them are Arun (Aamir Khan), a gifted painter, Shai (Monica Dogra) an investment banker on a sabbatical in Mumbai, Munna (Prateik Babbar), a Dhobi with aspirations towards show business and Yasmin (Kriti Malhotra), a "shy girl behind the camera."
As they find themselves drawn into compelling relationships, the city finds its way into the crevices of their lives, separating them even as it brings them closer.
Dhobi Ghat may perhaps usher in a renaissance in Indian Cinema. The audience deserves and expects neo-realism from the Indian film industry, apart from its state-of-the-art technology and opulent settings. Years ago, Vittorio De Sica and Michelangelo Antonioni revolutionised the Italian Cinema respectively with their 'Sunflower' and 'The Passenger.'
It would perhaps be the wont of young directors like Kiran to bring about some refreshing and bold changes to Indian filmdom.
Aamir said the film captures the fragments of experience of the four characters.
"Their experiences are seen through a naive video diary, black and white photographic images, and painting, which form a portrait of Mumbai and its people, bound together as they journey through longing, loneliness, loss and love.
"Sometimes, the unspoken word is heard better," he said.
Aamir is keen to visit New Zealand, which he said is known for its pristine beauty and scenery.
"I love skiing and hope to be in your beautiful country this winter," he said.
Dhobi Ghat was featured at the Toronto International Film Festival in September 2010 to raving reviews.
Mind Blowing Films are the distributors of the film in Australia and New Zealand.
Dhobi Ghat will be shown in major cinema houses throughout Australia and New Zealand from January 21, 2011. For session times and updates, visit www.mindblowingfilms.com
Dhobi Ghat (Mumbai Dairies) Credits
Producers: Aamir Khan and Kiran Rao
Director: Kiran Rao
Cast: Aamir Khan, Kitu Gidwani, Kriti Malhotra, Monica Dogra, Nafisa Khan and Prateik Babbar
Music: Gustavo Santaolalla
Cinematography: Tushar Kanti Ray
Editor: Nishant Radhakrishnan
Distributor: Mind Blowing Films Ltd Australia & New Zealand
Date of Release: Friday, January 21, 2011 in Australia and New Zealand