Following the official announcement of results on December 10, Prime Minister John Key wasted no time in announcing his cabinet line-up, offering portfolios to the lone MPs of ACT and United Future and two of the three MPs from Maori Party. The line-up had a few surprises, with Mr Key rewarding a number of colleagues with higher ranking and enlarged responsibilities.
Labour on the other hand is pausing to reflect on its electoral debacle with a leadership change.
From a political standpoint, the victory of Labour candidate Carmel Sepuloni in Waitakere meant a stunning defeat for National's Paula Bennett but ironically, the latter would not only retain her position as a Member of Parliament and gained higher ranking in the new Cabinet.
That win in West Auckland also meant a three-year break for Raymond Huo, who, at the 23rd position on Labour List had to bow out as MP. His fortune may however change if Ms Sepuloni loses the constituency following a recount of the votes at the insistence of Mr Key.
In another turn of events, the dead heat in Christchurch Central cooled off on December 10 as the final electoral results placed National's Nicky Wagner on the winning seat ahead (with a margin of 45 seats) of Labour's Brendon Burns.
His defeat secured the seat of Dr Rajen Prasad as MP at the tail end of Labour.
He would be the only MP representing all Asian communities on behalf of his party in the next Parliament.
Labour needs a person of his intellectual eminence and moral rectitude in its rebuilding process. We hope Dr Prasad would be entrusted with larger responsibilities commensurate his qualifications, experience and most important of all, the high level of acceptance and respect that he enjoys with almost all ethnic groups in New Zealand.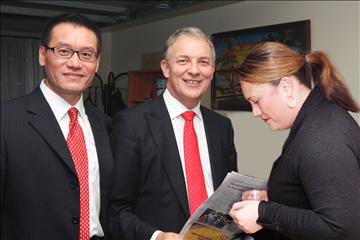 Such are the vagaries of the Mixed Member Proportional (MMP) System, which scored high in the referendum, with 57.7% of the voters exercising their preference. First Past the Post was the most preferred system in Part B of the Referendum with 46.6% of the total number of votes cast, followed by Supplementary Member (24.14%), Single Transferable Vote (16.73%) and Preferential Voting (12.47%).
Low turnout
Many Labour candidates who lost in their electorates attributed their plight to the low voter turnout throughout the country.
According to the Electoral Commission, the total number of votes cast was 2,257,336 or 74.21% of the total number of voters registered, down from 2,376,480 votes (79.46%) recorded in the General Election 2008. Special votes including overseas votes, out-of-electorate votes and late enrolments accounted for 11.6% of the total.
Commentators have suggested that voting should be mandatory as it is in Australia. Some have also recommended online voting. These suggestions would form the basis for public discussion in the years to come.
Ministers in the Cabinet
John Key: Prime Minister, Tourism, Ministerial Services, Security, Intelligence Service, GCSB; Bill English: Deputy Prime Minister, Finance; Gerry Brownlee: Leader of the House, Canterbury Earthquake Recovery, Transport, Earthquake Commission; Steven Joyce: Economic Development, Science and Innovation, Tertiary Education, Skills and
Employment and Associate Finance; Judith Collins: Justice, ACC, Ethnic Affairs; Tony Ryall: Health, State Owned Enterprises; Hekia Parata: Education, Pacific Island Affairs;
Christopher Finlayson: Attorney-General, Treaty of Waitangi Negotiations, Arts, Culture and Heritage and Associate Maori Affairs; Paula Bennett: Social Development, Youth Affairs; Dr Nick Smith: Environment, Climate Change Issues, Local Government;
David Carter: Primary Industries; Murray McCully: Foreign Affairs, Sport and Recreation; Anne Tolley: Deputy Leader of the House, Police, Corrections; Dr Jonathan Coleman: Defence, State Services and Associate Finance; Tim Groser: Trade, International Climate Change Negotiations, Associate Foreign Affairs; Phil Heatley: Energy and Resources, Housing; Kate Wilkinson: Conservation, Labour, Food Safety and Associate Immigration; Nathan Guy: Immigration, Racing, Veterans' Affairs and Associate Primary Industries; Craig Foss: Commerce, Broadcasting, Associate ACC and Education; Amy Adams: Internal Affairs, Communications and Information Technology, Associate Canterbury Earthquake Recovery
Ministers outside the Cabinet
Maurice Williamson: Building and Construction, Customs, Land Information, Statistics; Chris Tremain: Civil Defence, Consumer Affairs, Associate Tourism and Transport; Jo Goodhew: Community & Voluntary Sector, Senior Citizens, Women's Affairs and Associate Health; Chester Borrows: Courts, Associate Justice and Social Development
Support Party Ministers
Peter Dunne: Revenue, Associate Conservation and Health; John Banks: Regulatory Reform, Small Business, Associate Commerce and Education; Dr Pita Sharples: Maori Affairs, Associate Corrections and Education; Tariana Turia: Whanau Ora, Disability Issues, Associate Health, Housing, Social Development, Tertiary Education, Skills and Employment.
Photo:
Carmel Sepuloni (right) won in the Waitakere constituency, edging Raymond Huo (left) out of Parliament. Phil Goff, who bowed out of Labour's leadership, is in the centre. Picture taken and morphed by Narendra Bedekar at Indian Newslink office on June 25, 2010.