Wellington, May 29, 2020
The Covid-19 pandemic and the lockdowns that have been put in place globally have led to what many have termed the second epidemic –escalation of family violence.
In New Zealand, Police statistics show 20% spike in cases.
As the Police have acknowledged, the real figure is likely to be higher.
This is generally the case since many do not report the violence that they are experiencing.
Service providers agree that figures are even less likely to reflect reality in lockdown since those who are constantly monitored by their abuser struggle to access help.
Covid-19 heightens risk
Dr Sripriya Somasekhar, whose doctoral thesis is on Indian Women and Domestic Violence says, "Covid-19 has heightened the risks for those most vulnerable to family violence especially women and child from our ethnic-minority communities. Various ethnic service providers have noted a spike in family violence during the lockdown. This was expected looking at global trends of family violence during lockdown and knowing unique barriers ethnic women face in seeking help. There was escalated violence in some cases owing to unemployment. Ethnic women who live in a joint family set up would find it harder under the situations of lockdown to ring for help. Although we see a spike, we will only be able to learn from thus situation in a few months' time when we see themes and patterns of abuse and help-seeking emerging".
Even at the start of New Zealand's response to Covid19, our government knew that we were likely to see an increase in family violence.
That is why Family Violence Support Services were specifically included as essential social services and were allowed to continue to operate throughout the lockdown.
Funding in Budget 2020
To support the sector further and in an ongoing effort to end family and sexual violence, the government recently announced a significant funding package as part of Budget 2020.
The funding package of $202 million is to enable victims/survivors of family violence access the support that they need and to help perpetrators stop inflicting family violence.
The funding also supports victims of non-fatal strangulation to access the medical and forensic services they need in order to deal with the resultant trauma and to gather the evidence needed to prosecute offenders.
The funding boost builds on the support provided through the 2019 Wellbeing Budget.
Long-term approach
The Coalition government is serious about ending the scourge that is family and sexual violence and has therefore adopted a long-term, multi-year, cross-agency approach to address it.
That is why our Government created the position of Parliamentary Under-Secretary focused on addressing family and sexual violence.
I understand this is the first time we have had such a position in the New Zealand government.
Under-Secretary Janet Logie leads the government's work on the design of an integrated and responsive family violence system, engagement with the sector, responses to the Law Commission report on justice responses to victims of sexual violence, and implementation of new family violence law.
Family and sexual violence cuts across ethnicity, socio-economic status, educational background and every other classification that serves to divide us.
It is, however, a gendered issue. While most men do not inflict violence against women, the evidence tells us that in cases of family and sexual violence, women are more often the victims and men are more often the offenders.
Transformative thinking
There is a significant body of evidence that support this, including a series of reports by the Family Violence Death Review Committee (FVDRC).
The FVDRC is an independent body that reviews and advises the Health Quality & Safety Commission on how to reduce the number of family violence deaths.
In earlier reports the FVDRC presented transformative thinking to better reflect the reality of women's experiences of intimate partner violence.
They called for an integrated system response that understand the gendered pattern of harm and was able to keep women and children safe.
Previous reports have repeatedly concluded that to realise safety for women and children, we need to better understand and interrupt the pathways men are on that lead them to perpetrate violence.
The most recent Sixth FVDRC report attempts to understand the life trajectory of the men involved in family violence deaths from their birth to the death event.
This is important because we can analyse how we reduce men's violence while concurrently working with women and children to keep them safe.
Prior to entering Parliament, I worked as a Policy Analyst with the Ministry for Women's Affairs (now Ministry for Women).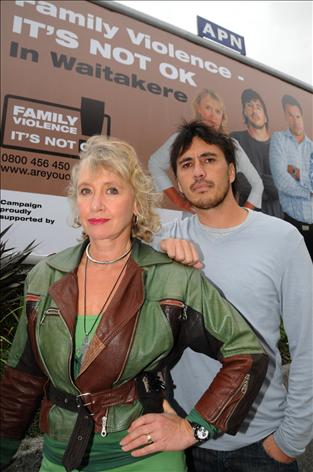 Preventative measures
My research included exploring primary prevention approaches, focused on stopping family violence from occurring by promoting respectful, non-violent relationships.
International evidence indicates that promising interventions focused on changing behaviours that were rooted in often deep-seated gendered roles, norms and stereotypes. 
This includes challenging social norms around masculinity and femininity that are often guised as cultural norms, whether that is the culture of particular groups, like sports clubs or specific ethnic or religious groups.
The FVDRC's Sixth Report offers some lessons on how this may be achieved. There are also some lessons in the Sixth Report for our South Asian communities.
The Report tells us that 14% of men who used violence in intimate partner deaths between 2009 and 2017 were of South Asian origin (this includes Indo-Fijian men given cultural and religious commonalities).
This is the third most frequently recorded ethnic grouping after Pakeha and Maori communities.
Yet, Asian women, including South Asian women, report violence at a lower rate than other women living in New Zealand.
The Report outlines barriers that Asian women face in accessing support.
The immigration threat
These include a lack of understanding of the legal protections available, isolation, language barriers and in the case of migrant women, I would add, their Immigration status.
Immigration is often used as a tool to control women and prevent them from accessing support.
In my experience working in the family violence intervention sector, particularly with women from ethnic minority communities, our communities often choose not to talk about issues like family violence. And being from an ethnic minority community myself, I can understand why.
Most of us have experienced discrimination in some form – whether it is institutionalised or casual racism. The last thing we want is to acknowledge that some of the uglier issues that exist in all communities, also exist in ours.
We do not want to risk being further marginalised and told to "go back home." 
And so there is a tendency to turn a blind eye.
The Report acknowledges this and clarifies that the section on ethnic immigrant communities and family violence is not included to fuel racist attitudes, but instead to highlight the need to further understand intimate partner violence in ethnic migrant communities and address it.
Structural changes
It is clear, that we need structural change at various levels if we are to see a reduction in, and eventually an end to, family violence. The report supports this view and highlights the need to address racism, the impacts of colonisation and structural inequities so that everyone can access justice, secure housing, health care and education.
The Report also emphasises that we all have a role to play in this – government, agencies families and our wider communities.
It is an interesting Report that provides valuable insights.
One of them is around community mobilisation, or the idea of stimulating action among community members to change deep-rooted social norms.
As stated in the Report, "the aspirational target is for community accountability, where communities are in a position to address men's use of violence and hold them accountable for their actions while supporting women and children to be safe."
Communities exist where people gather – at work, sports clubs, schools, places of worship, towns- or where they have a common identity such as ethnicity.
They are places where people with common interests, beliefs or activities interact. Communities in turn, play an important role in shaping people's attitudes, identities and roles.
Understanding the dynamics
I strongly believe that our communities need to ensure that those in positions of authority have a sound understanding of the dynamics of family violence so that they can work with women and children to be safe and hold offenders to account.
It is also important that we are able to identify protective factors that are intrinsic to our cultures and religious beliefs that can be drawn on to strengthen relationships, because those exist too.
I want to emphasise that we all have a role to play in ending the scourge that is family and sexual violence. It is also time that we adopt a mature multiculturalism so that we can discuss these issues collectively without fear of further marginalisation.
We all have a role to play in that too.
Priyanca Radhakrishnan is  Member of Parliament on Labour List from Maungakiekie and is Parliamentary Private Secretary to the Minister for Ethnic Communities. As well as leading and contributing to the efforts concerted to address family violence, she is a strong advocate of social equality and uplifting the lot of the poor and the under-privileged.